Skip to Content
Medicare & Texas Medicaid
Medicare Hospice Benefit / Texas Medicaid
Many people are unaware of the Medicare Hospice Benefit (MHB) or the Texas Medicaid hospice benefit. The entire cost of hospice prescribed services and expenses provided by the benefit are covered 100% by Medicare or Medicaid. The hospice benefit may be chosen when a patient, 65 or older under Medicare, disabled with Medicare, or disabled with Medicaid, with a terminal illness is given a prognosis by their Primary Care Physician (PCP) that should the illness takes it normal course, the patient will pass in approximately 6 months or less. The advantages provided with the Medicare Hospice Benefit are comfort care and improved pain management in the patient's residence, with regular visits from hospice team members for nursing, bathing assistance, and visits from a chaplain or social worker if desired. The benefit can include physical therapy and occupational therapy for those who can utilize those.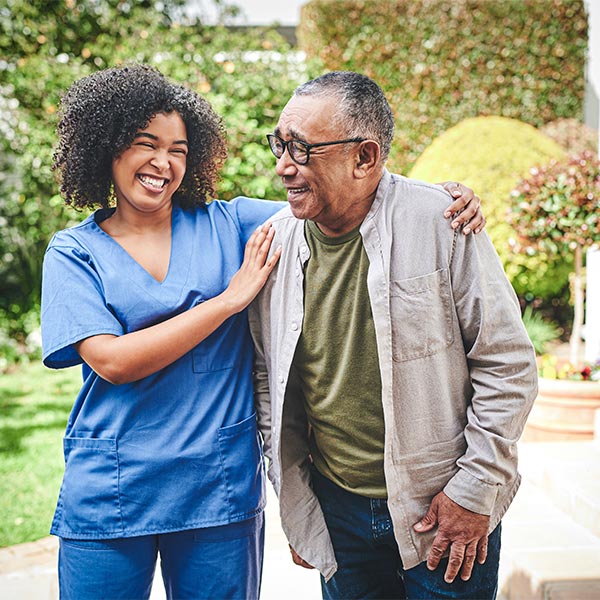 Hospice Care Can Help Relieve Stress
Patients can be more relaxed, and spend more time with family or other visitors of their choice. With hospice care, medications can be more closely managed, so that combinations of medications do not keep a patient sedated. Patients can have a normal day, with a normal wake and sleep cycle. If the patient has a sudden increase in pain, they should notify the on-call nurse without delay, so the medical director can be contacted to discuss alternate pain medication which will be delivered as soon as possible.
Let Our Licensed Professionals Help
The hospice Medical Director is a licensed physician familiar with hospice patients and the individual's pain management. The hospice Director of Clinical Services (DoCS) is required to be an experienced Registered Nurse. The hospice DoCS coordinates with an interdisciplinary team of hospice employees, all licensed and qualified professionals who provide care for the patient, to review the patient's illness(es) and prognosis on a regular basis. This team of hospice staff discuss any necessary changes in prescriptions and care, as needed and as reported by the patient or their family. Our hospice has a licensed RN on call 24 hours a day to answer questions. Our Hospice chaplains can assist a patient and family with religious questions, prayer, song, or discussion as the patient or family desire. The Licensed Medical Social Worker, LMSW, can assist with family dynamics or funeral preparations.
Deciding to choose hospice care is a decision to forego further curative care. If a patient has cancer, they are choosing to stop chemotherapy. Difficult to tolerate curative medications will be no longer be necessary. Choosing the benefit is a personal choice made with family, by family, that the person is no longer curable, and no longer wishes to struggle with their health. Patients may live beyond 6 months or may pass within a few days if the hospice choice is unfortunately made very late for them. There is no set duration, no timetable for the duration of hospice care. Many times, but not always, a patient's final decline follows a definite pattern and can be estimated within a few days. Other patients show a slower decline. Some patients will rally and regain energy for a few days, weeks, or even months. Hospice provides comfort for the patient and family in this life transition.
Contact Us for Assistance
To repeat, costs for the benefit are covered 100% by Medicare or Texas Medicaid, and administered by the hospice agency. Benefits include professional visits, prescribed medications, medical equipment, and dignity supplies, as needed.
If you need assistance to determine if you qualify for a hospice benefit, call or email us.
Additional information about the Medicare Hospice Benefit is available from the Medicare website, or from the Texas Medicaid website.
Contact Us Today to Get Started